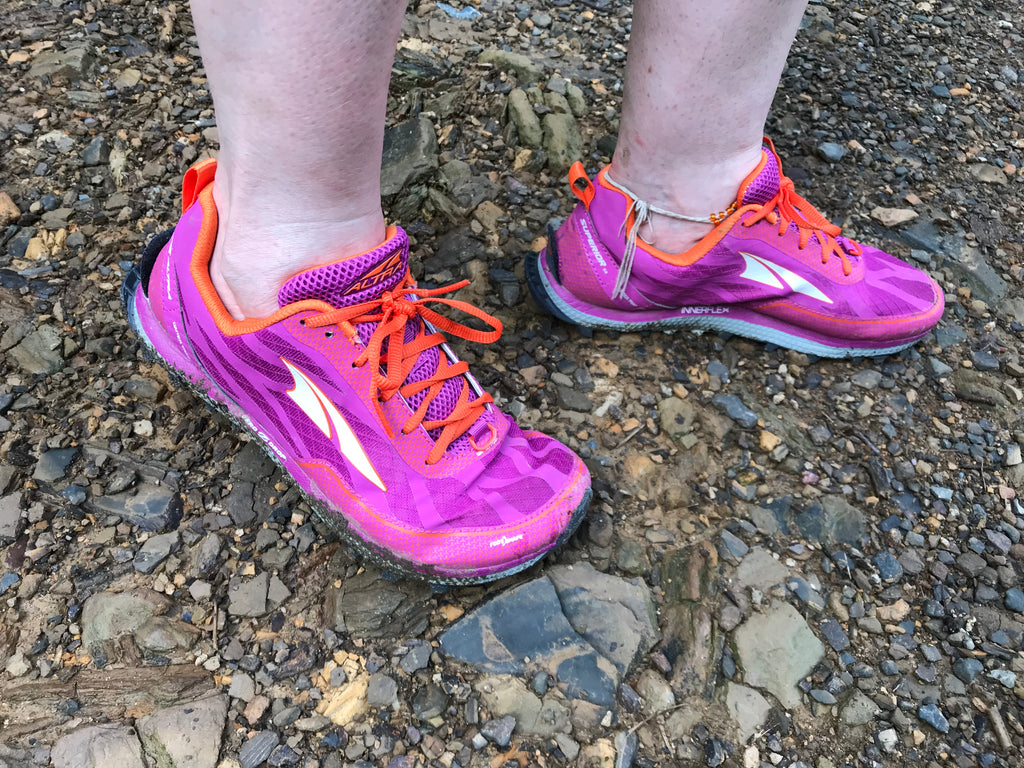 Review by: TRT member, Diana Gorham


Brand and Model
:
Altra Superior 3.5
Price: $110
What is the shoe ideal for?: Hiking,Trail running and Ultrarunning
Shoe Drop/Differential:
 0 
mm
Weight: 7.3 oz
Stack Height: 25mm/22mm
Technical Specs
:
Insole: 6mm contour footbed Platform: Fully cushioned Zero Drop(TM) platform and Footshape(TM) toebox Midsole: EVA/A-bound(TM) blend with Innerflex(TM) Outsole: DuraTread(TM) rubber with TrailClaw(TM) Upper: Quick dry Airmesh Other: 4 point GaiterTrap(TM) technology, reinforced breathable and flexible upper.
Step in fit and feel:
Roomy toebox, light cushion, springy, responsive and grippy.True to size, but if particularly wide at the forefoot like me, remove the insole for some extra room or size up a half size.
Ideal Terrain Usage: A variety of trails, they excel on rocky and dirt trails



Performance
:
Great grip on ascents and descents, with just the perfect amount of cushion to give some spring and protection, but still maintain a feeling of responsiveness proprioceptive awareness.
Overview:
Superior 3.5 is a great Versatile trail shoe. In typical Altra style, it sports a roomy toe box, plus their trademark zero drop platform that allows you to move as nature intended. The tread is grippy and gives great traction on most surfaces ( beware of wet bridges ). Where this shoe really shines is in its responsiveness. Unlike it's beefier Altra Sibling the Lone Peak, it has a removable Stoneguard(TM) instead of the full rock plate. This allows for a smoother, more responsive run, and offers enough protection for most trail runs( if you run long distance or extremely rocky terrain, the Lone peak would offer more underfoot protection). The 3.5 sports the 4 point gaiter attachment system, so when paired with Altra gaiters you can keep the trail debris out, as you speed down those descents.
Recommendations
:
Great shoe for trail explorers, that want a versatile, responsive shoe with light cushion, great traction on the trails and a foot shape(TM) toe-box!
TWO RIVERS TREADS