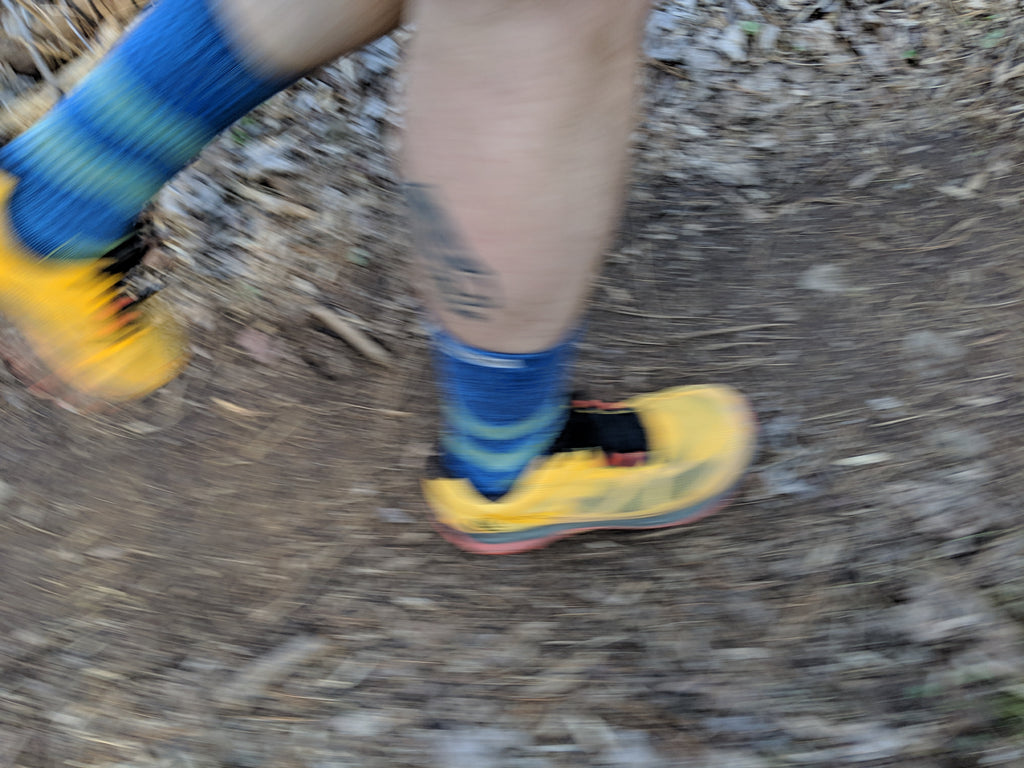 Review by: TRT Thundersquad Ambassador, Casey Fisher


Price: $120
What is the shoe ideal for?: Trail and Ultrarunning
Shoe Drop/Differential: 3mm
Weight: 10.8oz
Stack Height: 25mm/22mm
Technical Specs
:
Vibram outsole, flexible rock plate, drainage holes, ortholite footbed, unique gaiter attachment (best I have used)
Step in fit and feel:
Glove like fit for my feet - sizing is true to size
Ideal Terrain Usage: Trails, rocks, wet trails (drains fast and we'll)



Performance
:
Good ground feel on trails but lugs are not too deep to be annoying on the road. Quick shoe and agile on technical trail. Great all around trail shoe.
Overview: I love this shoe (this is my first pair of Topos), especially the color. Topo doesn't usually have really wild colors for their men's shoes but the yellow Terraventure 2s are bright and flashy. This shoe has many great features and has been my go to trail shoe for the last few months.


Let's start with the good: ortholite footbed (excellent upgrade from previous models), drainage ports (shoes dry before you get to the next stream), it's worth mentioning the color again, the fit for me is perfect (no blisters or hot spots) for races from 50K to 50miles, the flexible rock plate provides enough protection without sacrificing trail feel, and lastly the gaiter anchoring system is AMAZING!!!

Now for the bad: there is really only one thing for me and that is outsole and upper durability. In all fairness I am hard on my shoes and run some pretty gnarly trails (e.g., Massanuttens). After my recent 100 mile attempt I noticed the usually reliable vibram outsole was shredded (see pictures), this was after approximately 300miles of wear and tear on some pretty rocky trails but I expect more from vibram. The upper also does not handle rocks well, however I think this may be do to the breathability of the shoe which in my mind is an even trade off. For the price the shoe is definitely worth a try and I will definitely be getting another pair.
Recommendations
:
Definitely would recommend and this will be my go to trail shoe for 2019 for races up to 100 miles.
Continue reading